Amazing Tilt & Turn Windows
Tilt & Turn windows offer you the most versatile window on the market.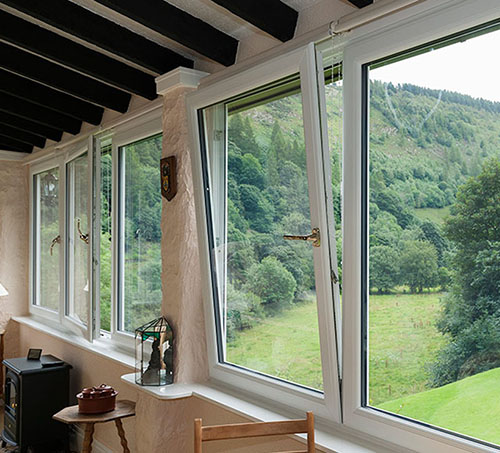 Tilt & Turn windows provide a practical and stylish addition to your home. These windows can be opened inwards fully like a casement window. They can also be tilted from the bottom, which allows for a smaller opening for ventilation at the top.  
Cleaning windows can be a struggle, especially the exterior. The turn function of these windows makes it simple to clean the full window. 
These windows are typically wider than other window types. Combined with a window that can be opened fully, they will maximise the amount of natural light entering your home. 
Tilt & Turn windows require multiple locking points to function properly. The in-swing hinges prevent the window being forced open from the outside. 
10-year manufacturer's guarantee.
These versatile windows offer a choice of ventilation options. The tilt feature allows for a slight amount of air to enter your home. Alternatively, the turn aspect will allow for a full breeze to cool down your home. 
This is a made to order, bespoke product, unique to your homes style.
Speak to a specialist today
Scotland: Edinburgh | Glasgow | Dundee
England: London | Birmingham | Manchester | Leeds | Leicester | Bristol | Wolverhampton
Wales: Wrexham and North Wales
With UK wide coverage in further locations.